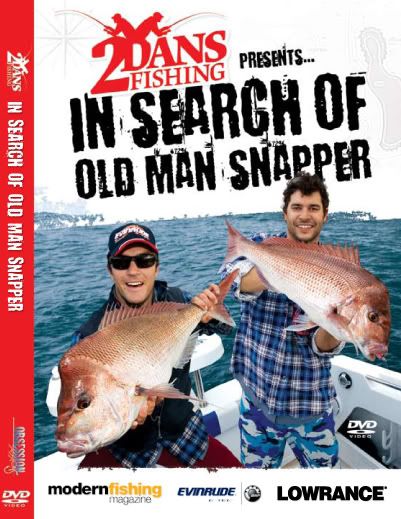 Our new fishing DVD, filmed in and around Australia's east coast including legendary Sydney Harbour is on sale NOW!
An awesome big snapper fishing DVD with plenty of information on
how to catch Snapper, Pagrus aratus
, and other saltwater species.
To coincide with the launch of our 3rd release Fishing DVD we have also launched our brand new website
2Dans Fishing DVDs
is now officially ONLINE. Check it out for plenty of fishing articles, great fishing tips and techniques and awesome fishing pictures in our image galleries.
"Welcome to our site. We're thrilled to be able to share some of our knowledge and experiences online after so many years of fishing adventures."
Making "In Search Of Old Man Snapper" was an awesome adventure for us. We reckon we've managed to produce something that is instructive and practical, but at the same time captures the thrills and spills of small boat fishing. If you're interested in an entertaining and informative DVD that has the feel of great fishing days with mates, we know you'll love it!"
Dan Trotter and Dan Burgess are two young, adventurous fishing mates obsessed by the excitement of small boat, big fish action. In this entertaining DVD they share their techniques for catching great fish in Australia's most heavily fished waterways. Have a laugh and learn new skills to target big fish in your favourite locations
"…After the success of The Kingfish Sessions and Angler Anonymous Dan and I decided to turn our fishing adventures towards the wily snapper and learn how to catch these magnificent fish on soft-plastics and baits. Once again we feel we've captured the adrenaline and chaos of trailerboat fishing by filming the Fun, the Fish and the action as it happened. We are really excited about sharing our journey In Search Of Old Man Snapper with you…."
Join us on a journey a year in the making... as we present the ultimate DIY guide to catching awesome snapper from your own boat.
See you on the water
Dan & Dan